LDT LLC can help you design and create the perfect getaway… in your own back yard. Creating an outdoor living area can effectively extend the living space of your home, setting the backdrop for family play, dinner parties with friends, or simply enjoying a quiet nature recharge from the seat of a shady lounger.
PERGOLAS AND PAVILIONS
Add easy elegance and welcome shade to your Oklahoma City backyard with a custom pavilion or pergola from LDT. Because of the variety of building materials and construction techniques of a pergola, Oklahoma City landscapers make these simple structures enhance the beauty of virtually any landscape—regardless of look you are going for. No matter what your outdoor shelter needs, a custom pergola or pavilion from LDT will protect you from the hot Oklahoma summer sun. Call us today and let our Oklahoma landscape design experts help you design the pergola or pavilion of your dreams.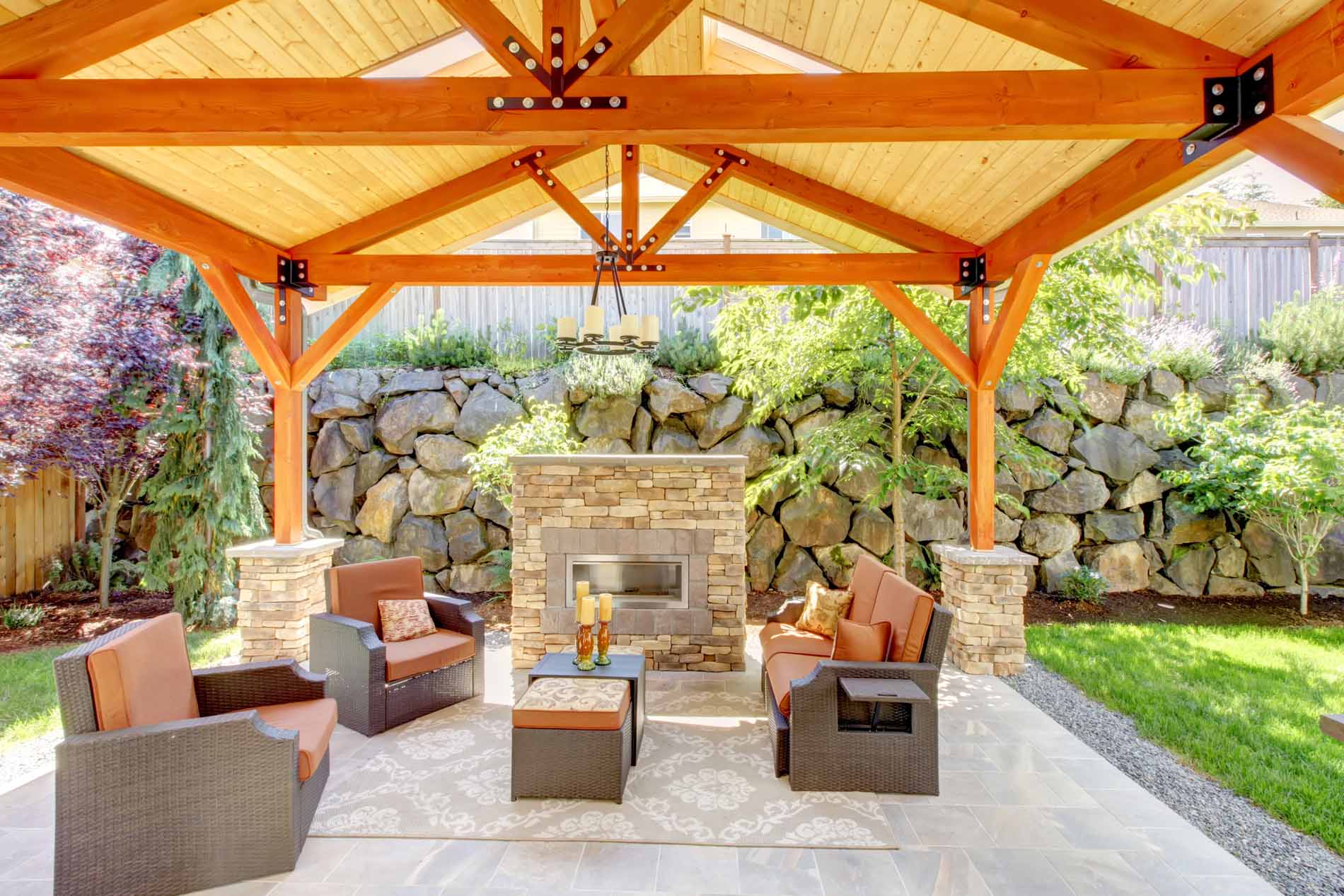 PATIOS
Enhance your backyard landscaping with a patio. Using some of the finest materials available, including pavers, brick, flagstone, pea gravel and even decomposed granite, our designers will create a patio that best complements your outdoor space. All patios are designed and installed to meet engineered specifications.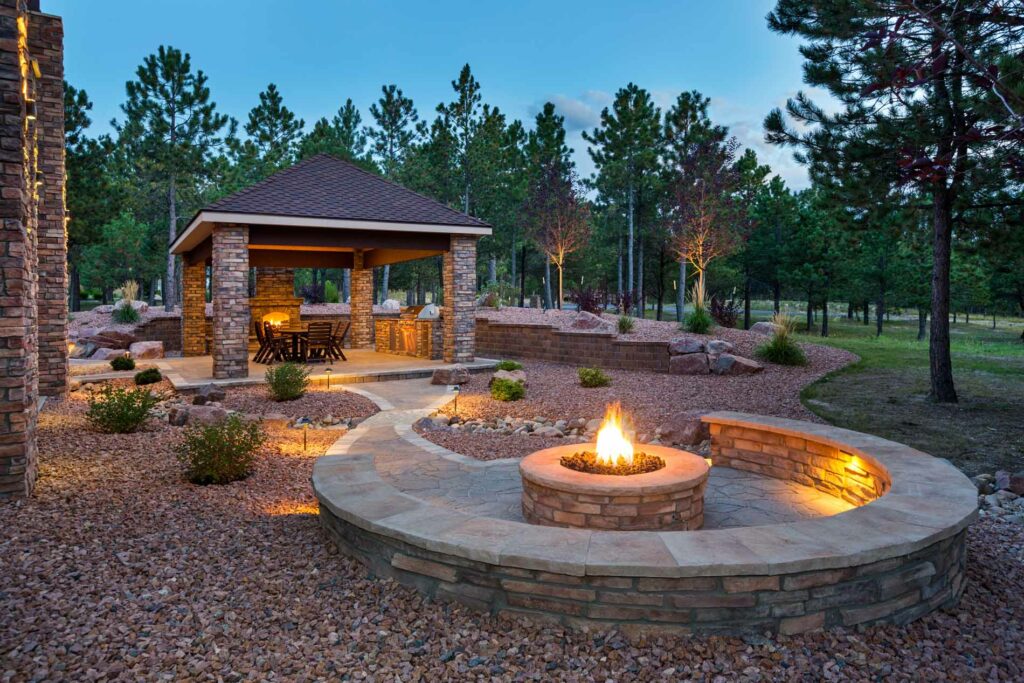 DECKS
Extend your living space into the natural world with a newly designed and built deck from LDT LLC. Multi-level built-in seating and hot tubs are just a few of the features we can design into your dream deck.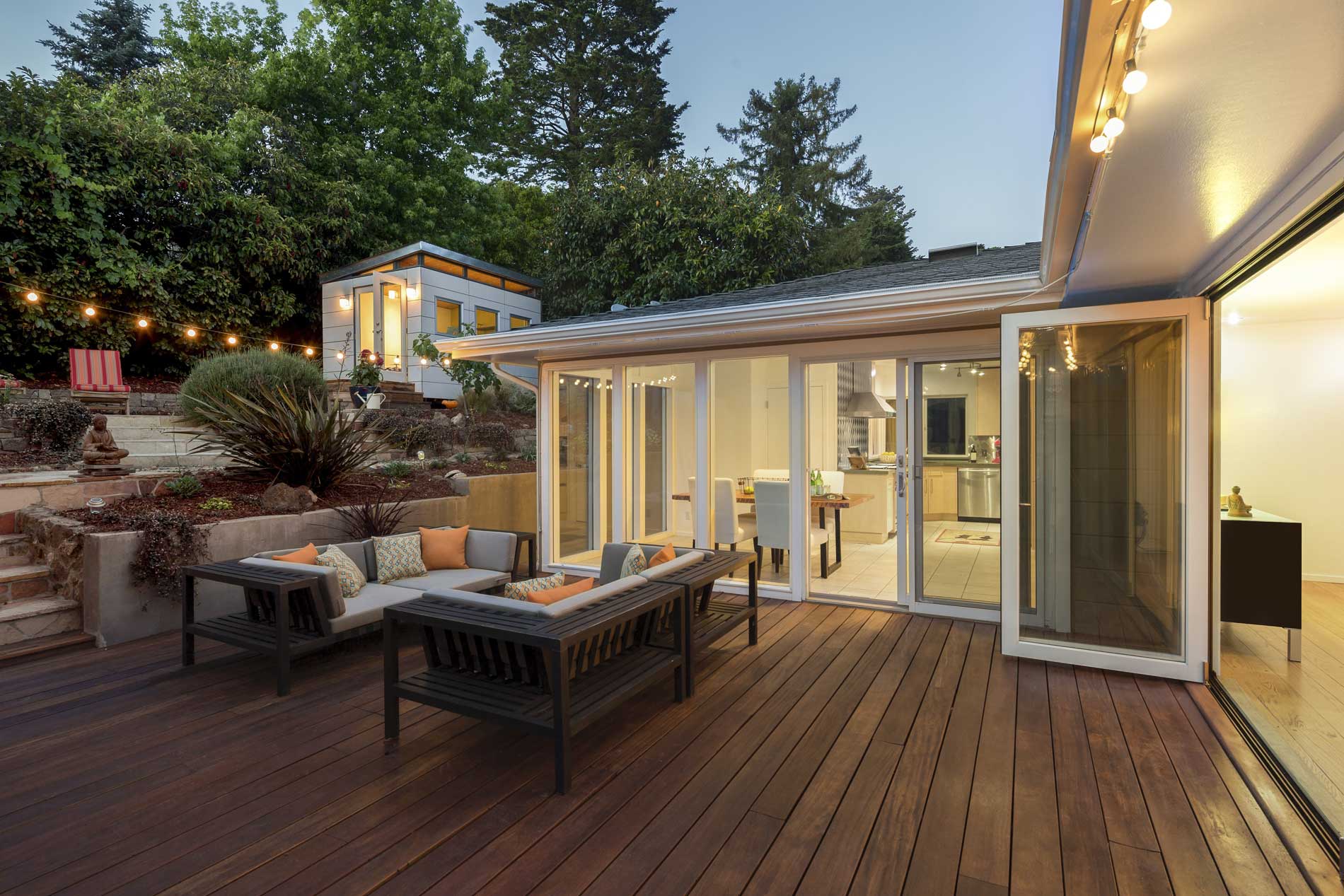 OUTDOOR KITCHENS
One of the hottest trends in backyard entertaining is the outdoor kitchen. Its not just a simple barbecue grill and picnic table anymore! At LDT, our Oklahoma City outdoor kitchen designers will listen to your wants and needs and work with you to create the outdoor kitchen of your dreams.
Because you can fully customize our outdoor kitchens, Oklahoma City residents have found it essential to include built in BBQ grills and smokers to make the ultimate backyard oasis. You can personalize your outdoor kitchen even further by including a deep fryer, rotisserie, ice machine, kegerator and more.
Speak with one of our design specialists and discover the outdoor kitchens Oklahoma City residents have been raving about.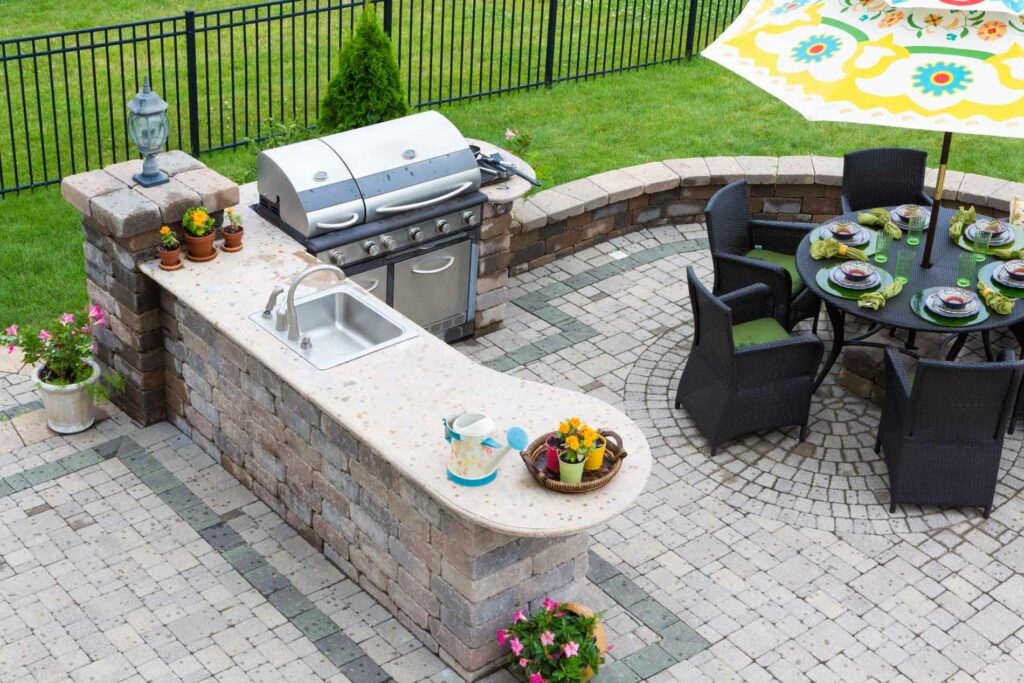 OUTDOOR FIREPLACES AND FIRE PITS
Add natural beauty and a relaxing conversation area to your backyard with an outdoor fireplace or fire pit. Working with our Oklahoma City landscape designers, we can create a customized outdoor fireplace design that complements and enhances your Oklahoma landscaping using a variety of stone, brick, tile and more. We can even add seating, planters or a pizza oven—whatever you desire.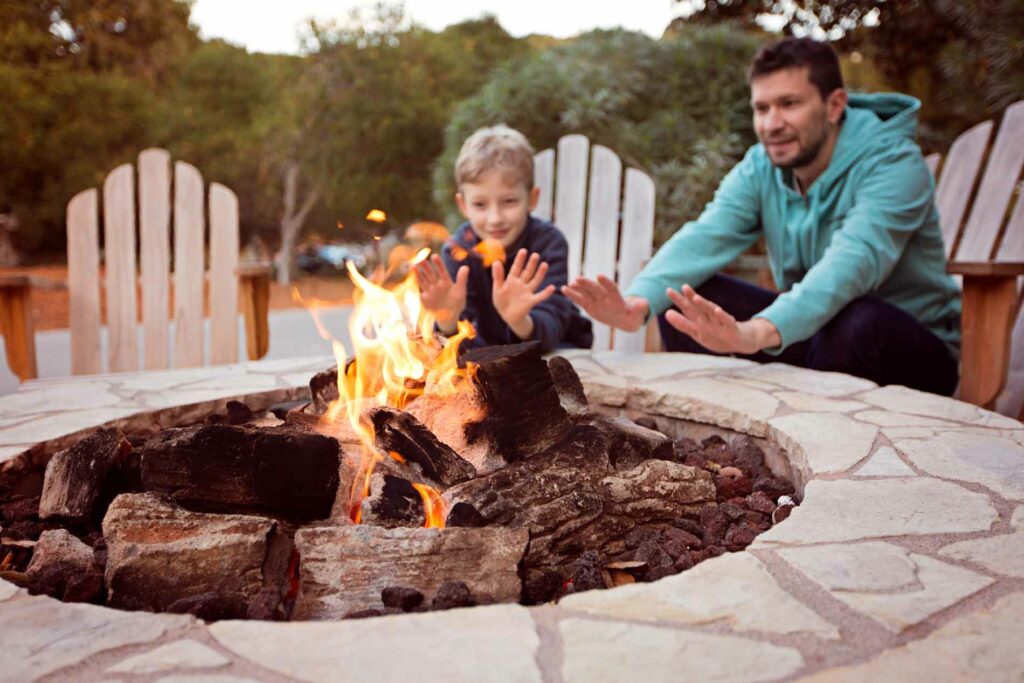 OUTDOOR BEDS
Can't get enough of the outdoors? Why not create an outdoor sleep space? Enjoy a hanging bed with all the comforts of your bedroom combined with teh peaceful and unique experience of sleeping under the stars.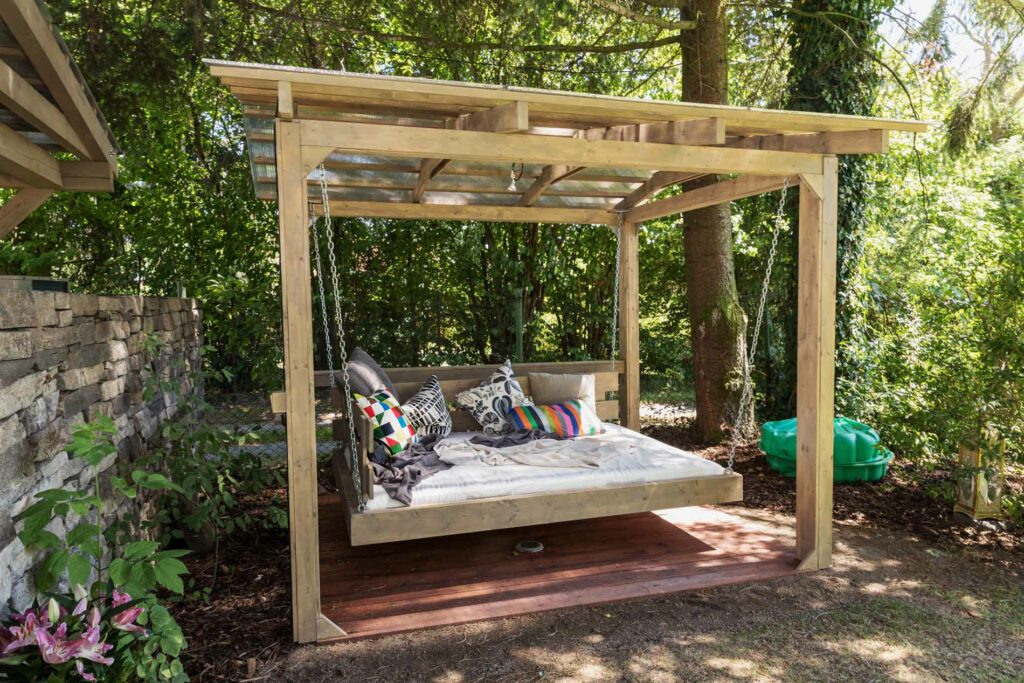 OUTDOOR SHOWERS
As simple or as luxurious as you can imagine, from a simple place to rinse your feet to an outdoor oasis to rival any indoor shower. Sunken tubs, water therapy, tankless hot water heaters, lights and music are just the beginning!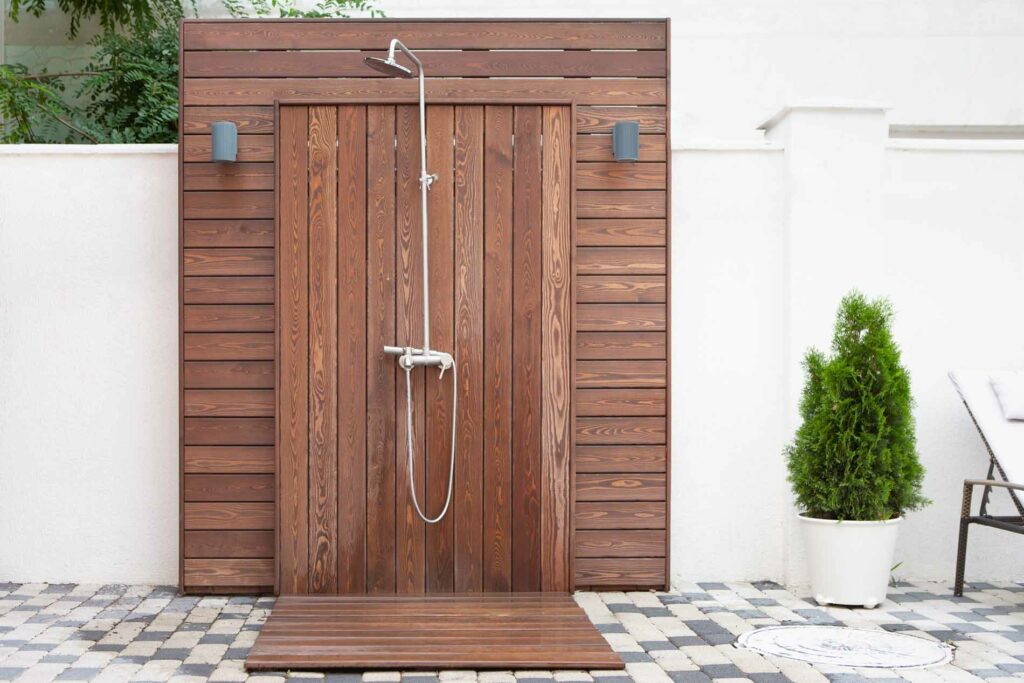 RAISED GARDENS AND COTNAINER GARDENS
The perfect way to grow herbs or vegetables, raised beds and containers dramatically reduce maintenance so that you can spend your valuable time collecting your harvest. Any size, shape or building materials can be used to create a raised garden to meet your needs.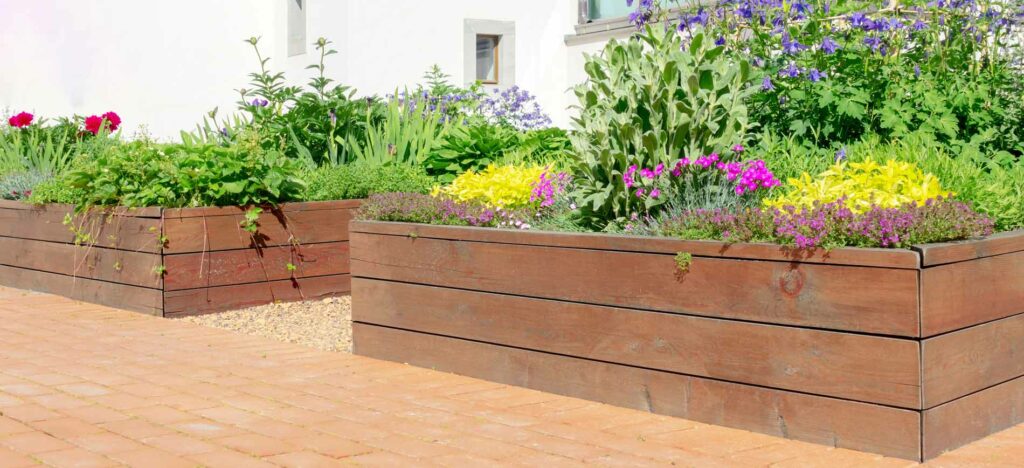 CUSTOM FENCING AND GATES
Wood, steel, or a combination of the two – let our design team create a gate and fence that complements your architecture and stands out from the rest.
LDT LLC is an authorized Centaur fencing dealer.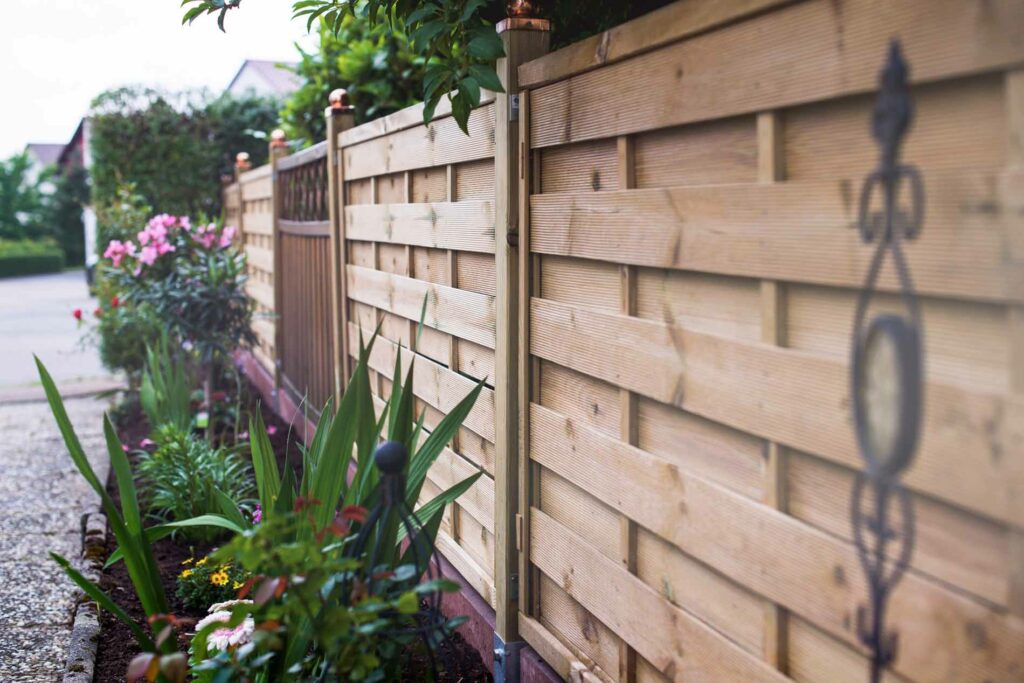 WATER FEATURES
Create a tranquil, peaceful oasis in your own back yard with a water feature. More affordable than you'd imagine, a water feature adds calm and Zen to an outdoor seating area. Choose from bubbling pots, koi ponds, fountains and more. Working with our designers, you'll find the water feature that best complements your space and budget.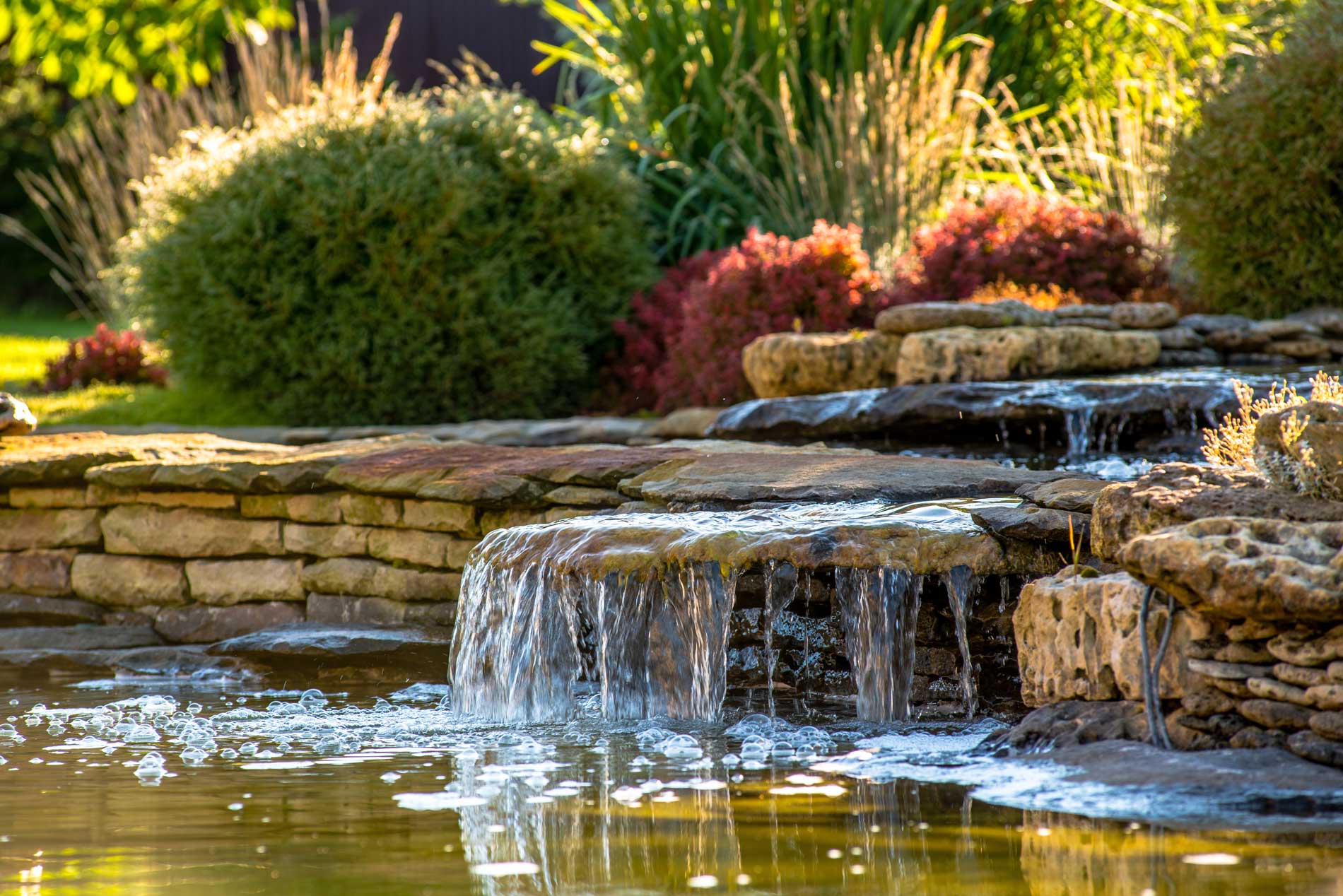 BUBBLING POTS AND ROCKS
Our bubbling pots are an easy and elegant way to add a bright splash of soothing color. Virtually maintenance free, bubbling pots are a water feature that offers a year-round benefit at a low cost of operation.
A bubbling rock water feature adds a natural look and a pleasant sound to your back yard oasis. Adaptable to any spot you choose, our craftsmen will create your bubbling rock feature from a wide selection of stones, boulders and rocks. Virtually maintenance free, bubbling rocks are a water feature that offers a year-round benefit at a low cost of operation.
WATERFALLS AND STREAMS
Designed to blend in to the environment, a waterfall or stream offers a dramatic look with that peaceful sound and are virtually maintenance free. Available in limitless designs and sizes, talk with our designers today about adding this unique feature to your landscape.
FOUNTAINS
Indoors or out, a fountain has always been a fascinating focal point. Easy to install and virtually maintenance free, LDT can install fountains in a variety of sizes and designs, from rustic to elegant.
PONDS
Create a peaceful backyard oasis by adding a soothing pond. LDT's designers can help you create a one-of-a-kind feature for your backyard or garden and provide great advice on care and maintenance.
KOI PONDS AND WATER GARDENS
One of the fastest growing hobbies in America is a koi pond. Not just a backyard water feature, a koi pond is a living, breathing, viable environment. When properly designed and installed, koi ponds are easy to maintain and offer year-round enjoyment.
PATHWAYS
Enhance your backyard landscaping with pathways. Using some of the finest materials available, including pavers, brick, flagstone, pea gravel and even decomposed granite, our designers will create a pathway that best complements your outdoor space. All pathways are designed and installed to meet engineered specifications.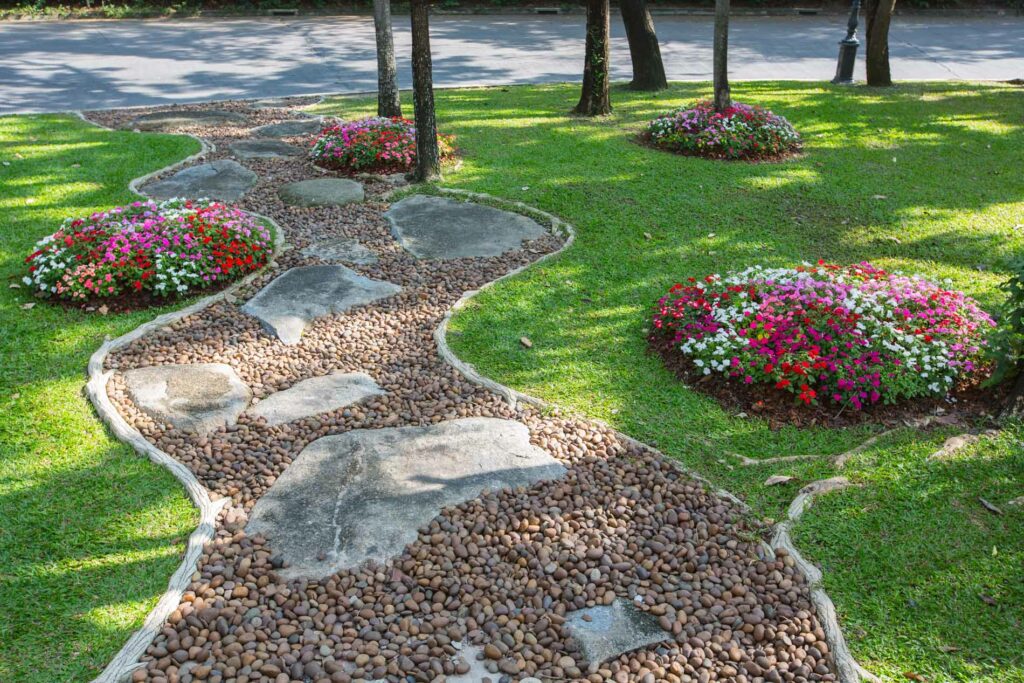 OUTDOOR LIGHTING
Add a touch of elegance and ambiance to your outdoor living space with lighting from the Oklahoma lighting experts at LDT. Our team of Oklahoma City landscape designers work with you to create the outdoor lighting scheme that best compliments the look and feel of your outdoor space.
For a truly custom outdoor lighting, Oklahoma City residents trust the landscaping experts at LDT.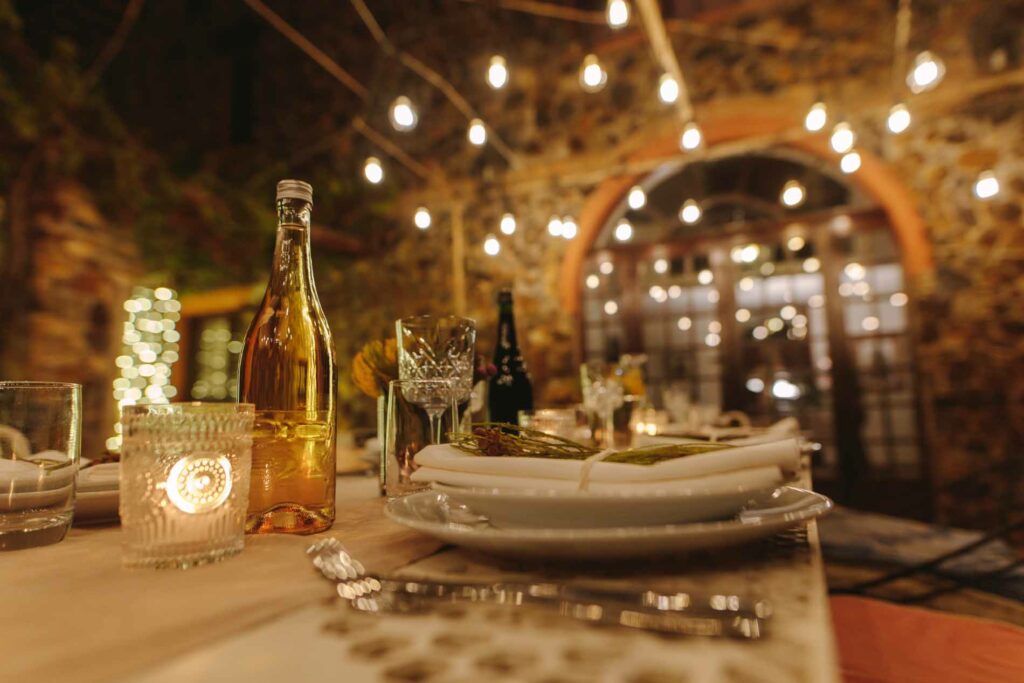 OUTDOOR GAMES
Chess, checkers, dominos, or almost any other game you and your family enjoy can be constructed on a large outdoor scale.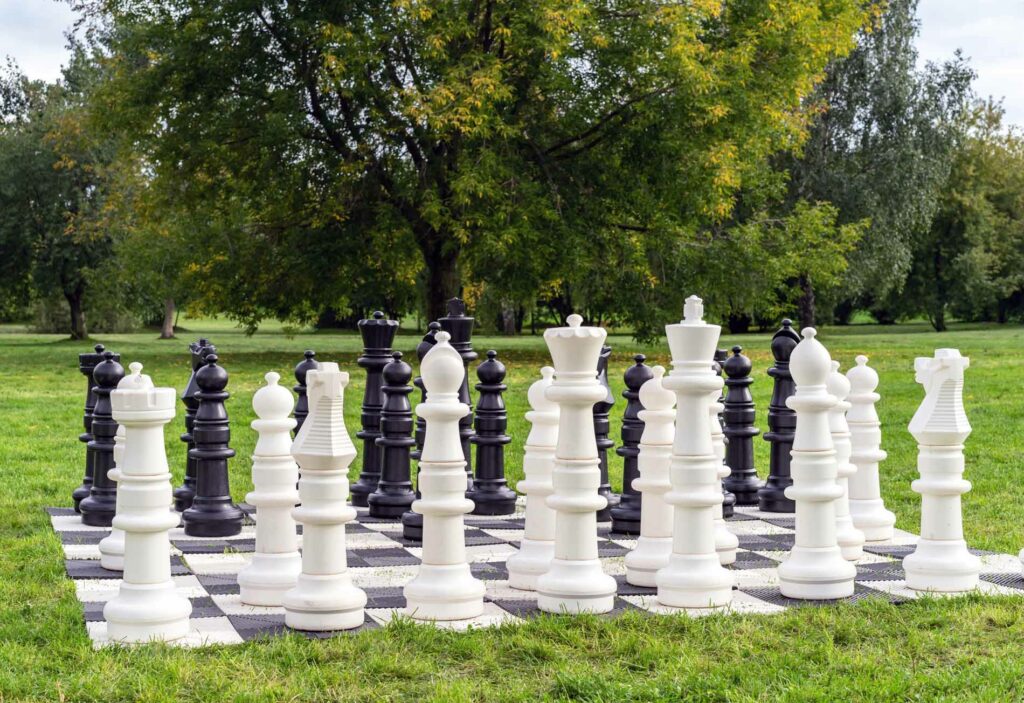 PUTTING GREENS
The way to make it to the Masters? Practice, practice, practice! Putt around, or get ready to shoot for your Tour Card, with your own back yard putting green. At LDT, you'll work with a designer to create your own unique putting green area. With limitless designs and sizes, your green can include not only a putting surface, but a rough to practice chipping and even a bunker to ace those tough sand shots! A personal putting green is the ultimate gift for the avid golfer!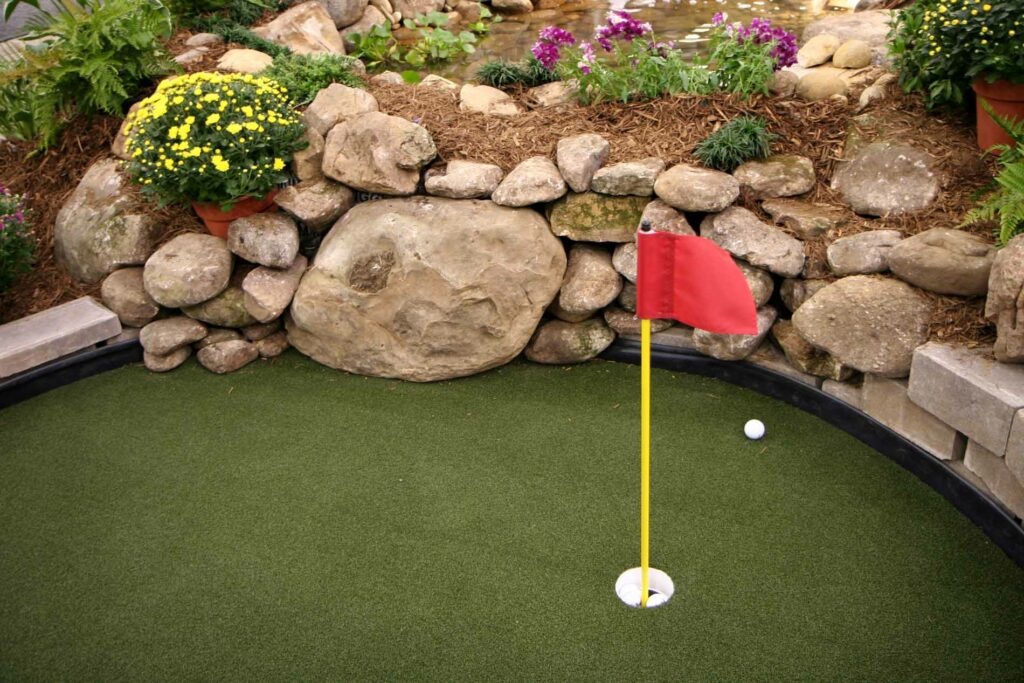 SPORTS COURTS
Basketball, volleyball, pickleball, tennis – you name it, LDT can design and build your backyard playground!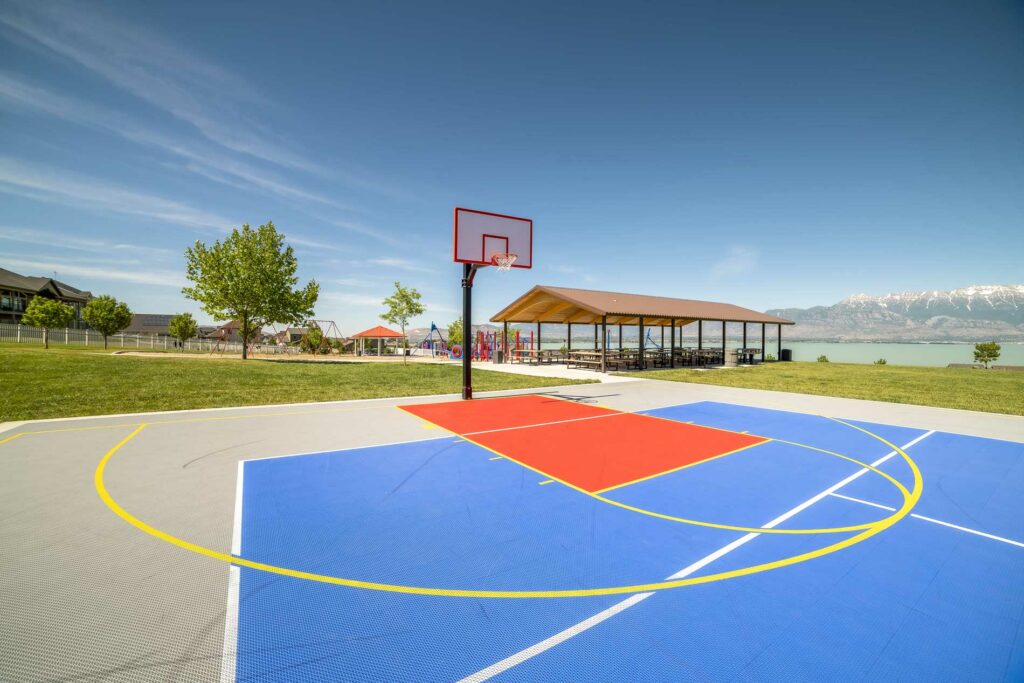 TREES
Let us create a landscape filled with trees that are suitable for Oklahoma and properly selected for your location and needs. A great way to add value to any property.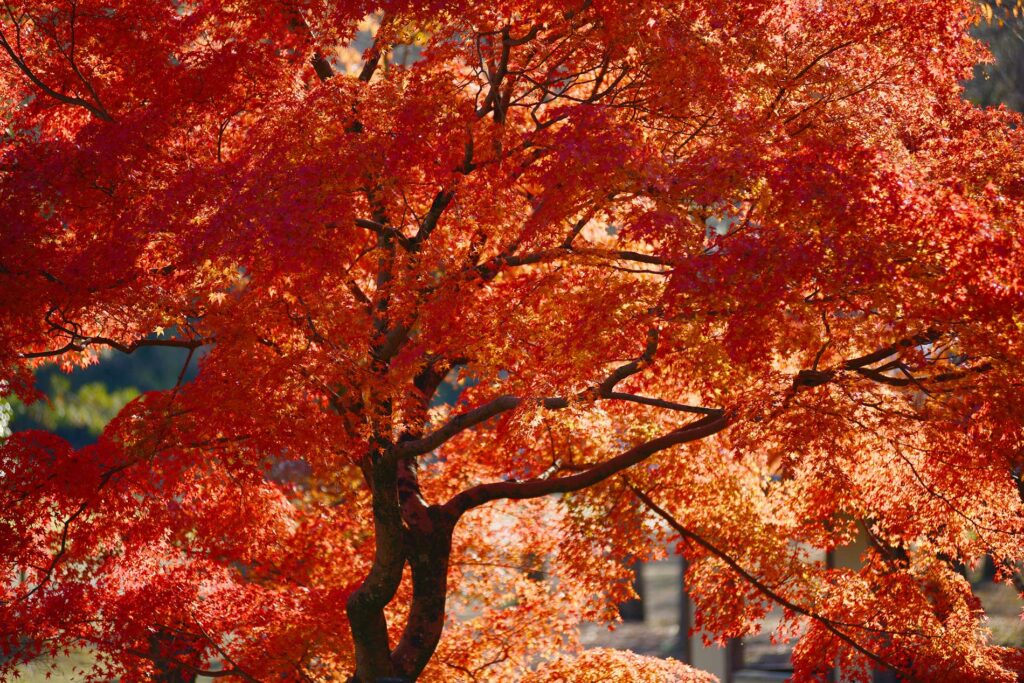 SEASONAL COLOR
Refresh and revitalize your landscape each spring and fall with annual color installations. Bright, vibrant, and colorful flowers bring welcoming beauty to your yard. We also offer spring and fall color contracts. Let LDT's experts install and replace your seasonal color in the spring and fall, so you can spend less time working in your yard and more time enjoying it.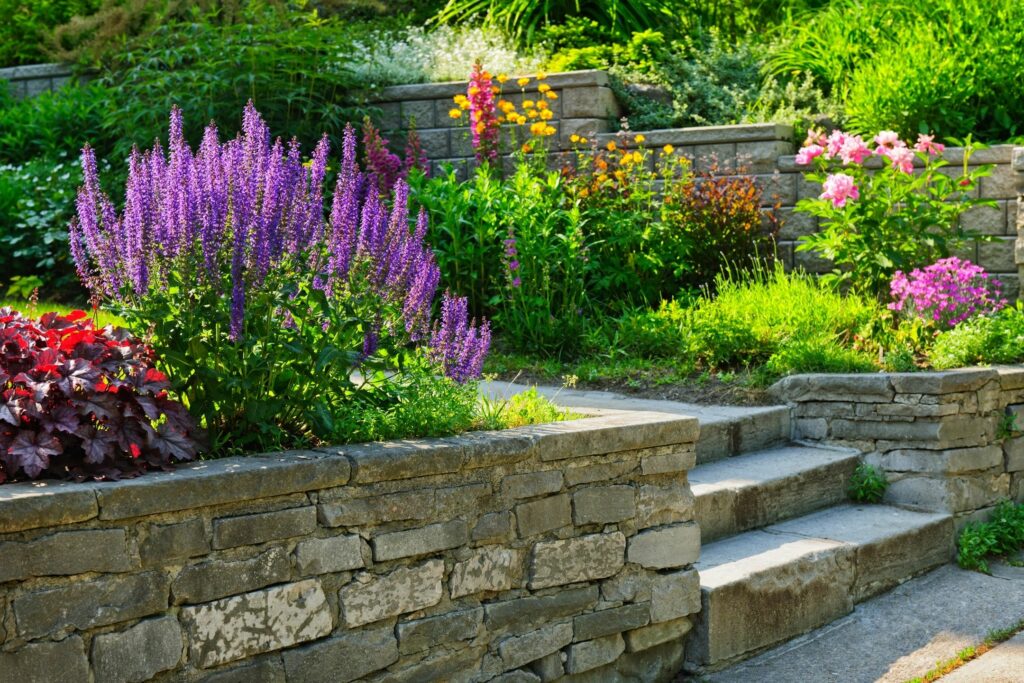 XERISCAPE
Xeriscape reduces or eliminates the need for supplemental water from irrigation. Plants are carefully selected to suit the Oklahoma climate, and care is taken to avoid losing water to evaporation and run-off.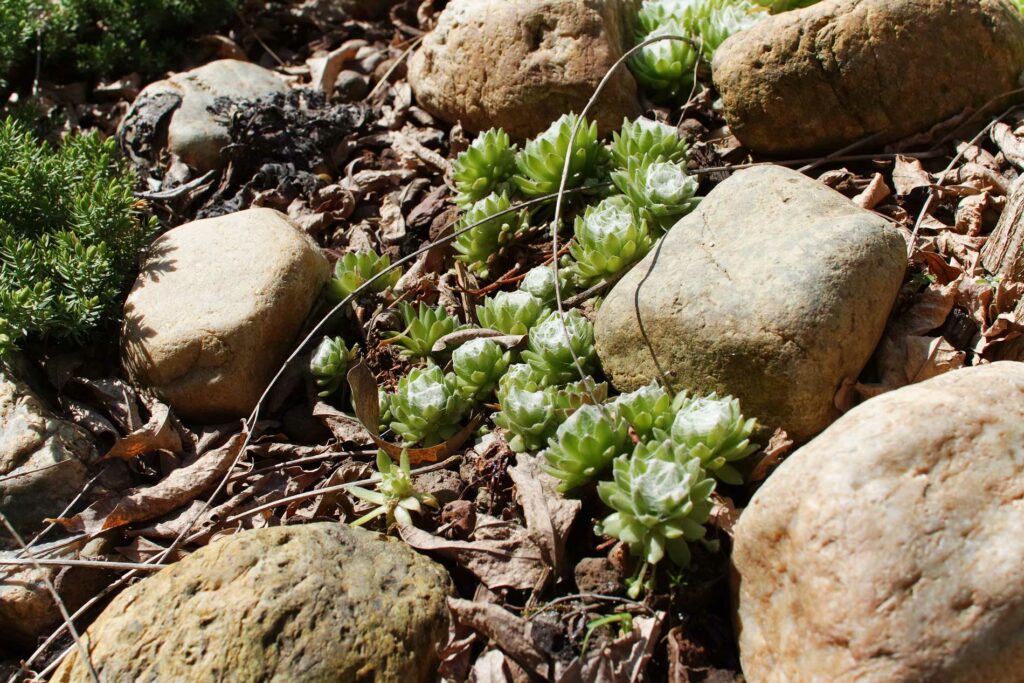 ARTIFICIAL TURF
When a lush, green, verdant lawn is impossible to grow, outdoor turf is a great option. Designed to look and feel like the most luxurious lawn, outdoor turf eliminates the need to water, fertilize and mow! From small areas to large, installing plush, realistic outdoor turf gives you plenty of extra time to enjoy your landscaping.